Report
A dynamic alternative
Get to know Grant Thornton
Read more
Grant Thornton St. Kitts & Nevis
Grant Thornton is a leading business adviser that helps dynamic organisations to unlock their potential for growth. Our brand is respected globally, as one of the major global accounting organisations recognised by capital markets, regulators and international standards setting bodies. In 2012 and 2013, we were the fastest growing large accounting organisation and we are constantly evolving and developing alongside our clients.
Grant Thornton St. Kitts & Nevis operates in the heart of the Basseterre of St. Kitts. Established in 2013, we offer a full range of advisory services with an initial focus on the financial services sector to support our clients operating in Eastern Caribbean and in the wider Caribbean region. We work closely with Grant Thornton member firms in the region to support our clients' cross-border business requirements.
Our clients are at the centre of our operating model. Client service and decision making is closer to the partners due to our size. We develop client solutions aligned to the industry needs of the day. Our flexible approach on working with clients, partners and other service providers sets us apart and above our competitors.
Our people are our most valuable asset. It is our strategic priority to attract, develop and retain the best people across Grant Thornton. Through empowering our people and shortening decision making chains, we operate in fast and agile way, providing our clients wider, value-added advice, and helping dynamic organisation to mitigate risk, drive cost savings, and increase operating effectiveness.
Awards
As well as being the fastest-growing global accounting organisation in 2012 and 2013, we have won a number of other prestigious industry awards, including: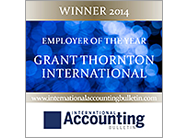 IAB Employer of the year 2014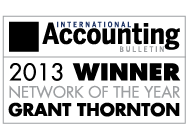 Global network of the year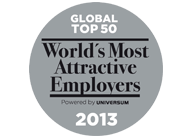 Top 50 most attractive global business employers in 2013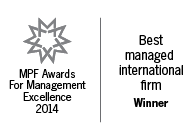 Best managed international firm in 2014